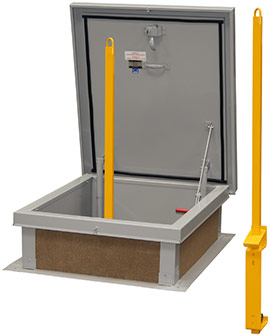 Safety Post
The SP-1 Safety Post provides a convenient and safe method of climbing off and onto fixed access ladders. Available in steel with yellow powder coat and meets ANSI A 14.3 and OSHA requirements.
Safety Posts offer support for climbing on and off a fixed access ladder while maintaining a standing position.
Easy To Use
When reaching the top of the ladder, extending the Safety Post is easy to lift with just one hand, because of the built-in counter spring. Now you can step on or off the ladder in a safe standing position while gripping the post. A latch maintains the post at any height and is easily released for retracting the post. Safety features include an easy-to-grip square post and a ring for fall arrest attachment at the top.
Easy To Install
Safety Posts come pre-assembled and attaches directly to the top two rungs (square or round) with just two "U" bolts.
Technical Illustrations